He's the little man (with the old lady paunch) of Italian cinema, well regarded for such roles as '
Boy Scout in Train' in the classic Via Alle Grande (1983), the 'whistling guy' in 1979's Liquirizia and most famously as the freakish Michael in Andrea Bianchi's zombie opus Burial Ground: Nights of Terror. We can only be celebrating the life and times of...
Little is know of the 56 year old Bark's early life and career except that his real name is Pietro Barcella and that he is a native of Rome. Originally he wanted to become a shopkeeper, but his lack of height made it impossible for him to see over the counter without the use of a box but the incident that made him turn his back on a life of retail was when a group of school children stole the Curly Wurly he was using as a ladder to reach the pornographic magazines on the top shelf leaving him stranded for 6 days with only a glossy picture of Anna Kanakis' breasts for company. It was seeing the beautiful star of The New Barbarians watching over him at night that convinced Bark to pursue his acting dream.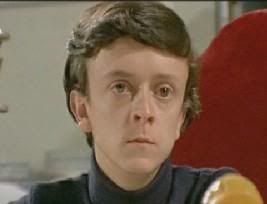 Dario Argento: The Grange Hill years.

But first he needed an English sounding stage name, he chose Peter (after his favourite musician Peter Tork of The Monkees) and Bark after the noise he would make as the other children beat him on the way to school (up to the age of 14, he was only an astounding 16" tall).
Noticed walking past a casting call for the movie Liquirizia by famed director Salvatore Samperi, the director was amazed by Bark's incredible whistling skills, writing the character of 'whistling boy' specifically for Bark.
The rest, as they say, is history.
Although his filmography consists of only four movies, Bark earned a place in horror history with his unique performance as Michael, the little boy with the bad hair in Burial Ground and, although sharing top billing with up and coming starlet Karin Well it was Bark who won the critics (and fans) appreciation for scarily accurate take on puberty, Oedipus complexes and high waist trousers.
The character of Michael as originally written was a 12-year old boy, however Italy's ultra-strict child labour laws forbid the participation of children in any film featuring sex, gore and incestuous overtones (especially if the child character was indulging in both). Bianchi hatched the audacious plan of casting the then 25-year old Bark as Michael, who his make-up artists promised, could believably be transformed into a 12 year old boy.

Unfortunately this completely failed to happen.

"Touch mah titties".



Bark made one more film after Burial Ground, using the money he'd made to open a specialist 'short people friendly' hardware store in Rome which he runs to this day.