News story of the week (maybe even the year)...not film/TeeVee/tat based but made my day!
The world's tallest man, Bao Xishun meets and shakes hands with He Pingping (possibly) the world's shortest!
"Awight wee man!"

Mr Xishun, 56, towers above everyone at an astonishing 7.9ft, 19-year-old Mr Pingping is a mere 2.4ft high.
Bao Xishun, a herdsman from Chifeng, Inner Mongolia, was recently married in a traditional ceremony to a 28-year-old saleswoman from his hometown. At 5ft 6" Xia Shujian only comes up to his elbow and is half his age. Sly dog.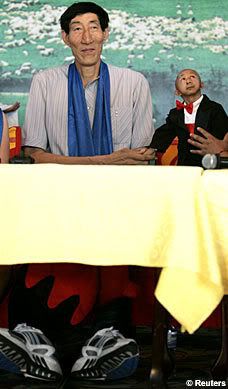 He claims he was of normal height until he was 16 when he experienced a growth spurt (probably due to Gamma Rays or suchlike) and reached his present height seven years later.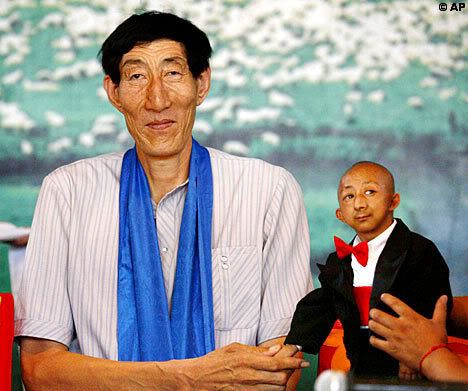 "I fell aff mah rice stalk!"

Mr Pingping was born nearby in Wulanchabu city, Inner Mongolia. His father claims he was only the size of an adult's palm at birth at was (probably) left by pixies on his doorstep.

Strange but true.