The Grim Reaper seems to have been working overtime since his Christmas break by the looks of the Unwell faves to bite the bullet in the last four weeks. In no particular order, we lost zany prankster Jeremy Beadle at the age of 59.


Beadle, famous for hit teevee shows like Game For A Laugh, You've Been Framed and Beadle's About (as well as his pube-like beard and tiny hand) died of pneumonia. Rumours that he's going to jump out of his coffin wearing a police uniform are so far unconfirmed.
Christopher Allport, American supporting actor well known for his roles in such shows as ER and The X Files was squashed by an avalanche at the age of 60.
Pleshette: pneumatic.

Suzanne Pleshette classy chasised, sexy star of The Bob Newhart Show and The Birds died of respiratory failure aged 70.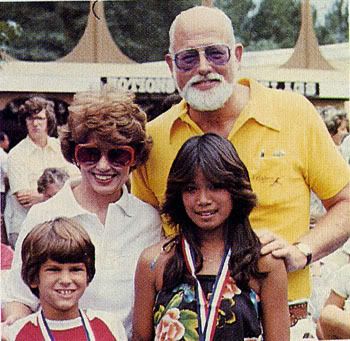 Also journeying to the undiscovered country (from where no traveler returns) was Richard Knerr, American co-founder of Wham-O Industries plus inventor of the frisbee and Hula Hoop from a stroke at the age of 82.
Princess's pants yesterday.
Jinzo Toriumi, the 78 year old Japanese screenwriter (and obvious pantie fetishist) responsible for the classic Speed Racer, Gatchaman and Armored Trooper Votoms) died of liver cancer and Mark Haigh-Hutchinson, the British video game developer behind Paperboy and the classic Zombies Ate My Neighbors died from pancreatic cancer at the age of 42.
Renfro: ferry ferry stoned.
Brad Renfro, the American actor famous for The Client and Ghost World (as well as his drug habit) chased his final dragon aged 25 and Maila Nurmi, the Finnish actress better known as horror hostess Vampira and star of the Ed Wood classic Plan 9 from Outer Space joined Bela Lugosi in the big soundstage in the sky aged 86.
Gemina, the world famous crick necked African giraffe was 'euthanized' aged 21 and Bill Belew, the American costume designer famous for Elvis Presley's rhinestone jumpsuits died aged 78.
Awww....too cute to take the piss.
Kooky keyboard king Mort Garson, Canadian electronic 'musician' famous for the freaktastic 'Black Mass' album went from mort to morte due to renal failure and Natasha Collins, foxy jester and television presenter girlfriend of Smarteenies Mark Spieght died in the bath aged 31.