Sunday, November 23, 2008
Saturday, November 1, 2008
Not much time to update recently but I couldn't let last months stiffs pass unnoticed....
Renegade Time Lord Omega's (second) incarnation Ian Collier passed over into the Eye of Harmony of unspecified causes (prolly exposure to black hole radiation). Aside his two appearances in 'The Who', Collier graced such classic shows as Rentaghost, Hi-de-Hi! and Howard's Way with his presence.
Estelle (mother of Rob) Reiner, the actress best known for answering Meg Ryan's fake orgasm in When Harry Met Sally with
"I'll have what she's having"
scoffed her last sexy salad last month as did Levi Stubbs, lead singer of legendary pop combo The Four Tops at the age of 72.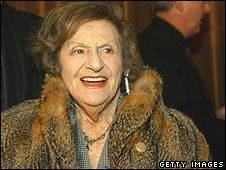 Kim Chan, American actor and producer famous for his roles as The Ancient in
Kung Fu: The Legend Continues
, Martin Scorsese's classic
The King of Comedy
(playing Jerry Lewis's butler) as well as playing Jackie Chan's father in
Shanghai Knights
, Uncle Benny in
The Corruptor
and Mr. Kim in
The Fifth Element
high kicked his way to kung fu heaven alongside top newscaster Bob Friend, cult teevee star Peter (
Danger Man, The Saint, The Avengers, The Forsyte Saga, The Troubleshooters, The Champions, Department S, Doomwatch, Z Cars, Survivors, Doctor Who (Pyramids of Mars), Tales of the Unexpected, Miss Marple, Lovejoy, The Bill, Cadfael and One Foot in the Grave
) Copley who, when not treading da boards was a legal expert and part-time lawyer.
Neal Hefti, American jazz trumpeter, composer, tune writer, and arranger most famous for composing the 1960's Batman teevee theme joins cartoonist, illustrator and satirist Ray Lowry in the big gig in the sky and we say a final farewell to the director of the notorious Deep Throat, Gerard Damiano.
As well as that famous Linda Lovelace and Harry Reems starrer (famously financed by the Mafia) he also gave us The Devil in Miss Jones and the kinky classic The Story of Joanna.
And for that we will all be eternally grateful.
Posted by Ashton Lamont at 12:11 PM 0 comments  

Links to this post
Labels: dead