She's blonde, she's ballsy and she's never suffered from Bells Palsy, it's....
Barbara Crampton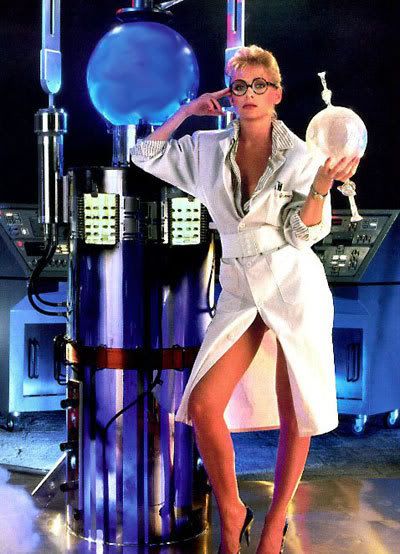 Born on December 27, in 1862 (or 1658 depending on where you crib your info from), Babs spent her youth traveling across American and 'ye olde Europe' with her Carnie dad, Crispin 'Crocodlie' Crampton, the famous half man/half lizard trapeze artist and inspiration for the Batman villain Killer Croc.
Her father helped young Barbara develop her love for 'performing' and she was soon appearing with the Ken Roach Dwarfs in an exotically erotic human cannonball cum juggling (that means it's a mixture of the two, not that she juggled jism) act.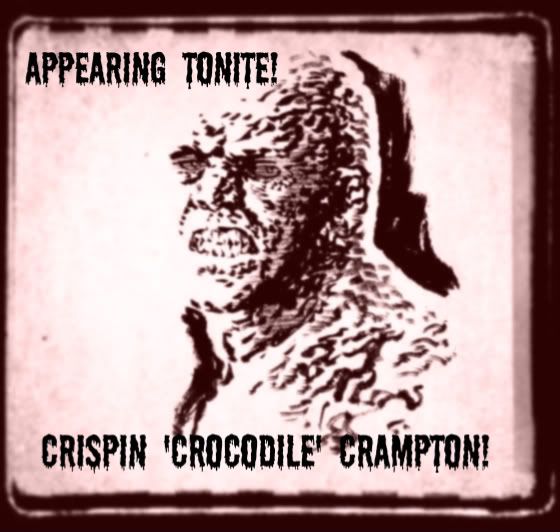 Giving up the circus life to attend college, Babs graduated with a Bachelorette of hearts degree in nude monster sex from Roy Castleton State College before moving to New York to take the title role in King Lear for the American Theatre of Terrifying Things.
After being chased out of town by angry Shakespeare purists she decided to lay low in sunny Los Angeles (tho' i've never been there so I can't say it's sunny for sure) where she went on to star in the horror classics Re-Animator (nude and being molested by a severed head), From Beyond (in bondage gear getting touched up by a monster) and Castle Freak (wearing a nice cardie).
Bubbly Babs: Hotter than Linda Hunt.
With roles in the such movies as Puppet Master (not as a puppet tho') and Fraternity Vacation (but only topless), Barbara's career was about to go stellar with her television debut in the daytime soap opera Days of our Lives, where she played Trista Evans Bradford and kept her clothes on.
Addicted to the drug that is a weekly pay check (and realising that there was no-one else on the planet that hadn't seen her naked) she joined the cast of The Young and the Restless, winning some award along the way.
But none of these parts involved her stripped and sweaty whilst tied to a bed being touched up by a monster so frankly we're not that interested.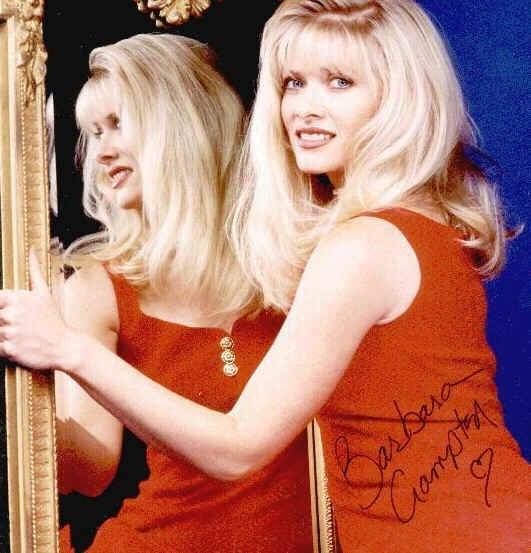 After a quickie marriage to ex Magpie presenter Tommy Boyd she made even more soap appearences (most famously on the lighthouse drama Guiding Light) before offing Boyd with a chair leg and swiftly getting engaged to L.A.-based actor and director Kristoffer (the voice of The Vulture in the hit video game Spider-Man: Web of Shadows) Tabori in April 1995.
But this relationship wasn't to last and, after finding her hubbie to be had been secretly directing shitloads of teevee stuff without giving her a role she called off the engagement.
With an axe to the head.
Luckily she'd recently joined the cast of The Bold and the Beautiful as Maggie 'finding' Forrester Warwick-Castle which gave her the alibi she needed to avoid the slammer.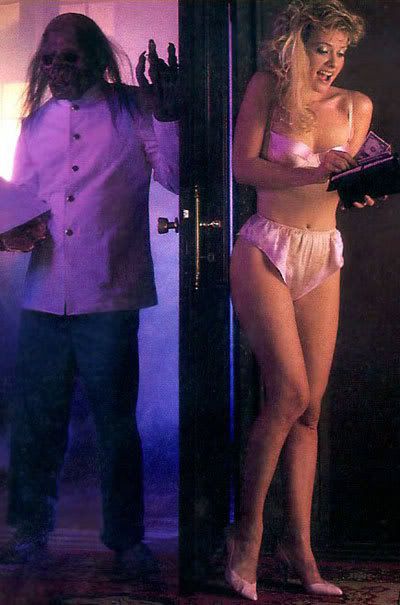 When not appearing in rubbish or murdering her lovers, Crampton enjoys skiing, horseback riding and yoga as well as running (from the law), working out with weights, and enjoying going to flea markets and shopping for antique weapons.